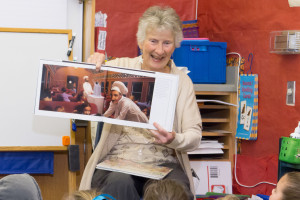 Upcoming Events with Pacifica School Volunteers
Read Aloud Day at Vallemar School: The morning of Monday, December 17, 2019, 9:00 a.m. is set aside to celebrate literacy and the the joy of books. Guest readers, including CA State and local  officials, businesspeople, prominent Pacificans and community members will read to students and share their love of literacy. It is truly a day of celebration. Join us if you'd like to share a favorite story with local students, 650-355-9432.
Oceana Senior Exhibitions: Friday, March 29, 2019.  Pacifica School Volunteers recruit volunteers to assist in evaluating Oceana High School Senior Projects. Community Evaluators Needed! Senior Exhibitions is an ambitious research project undertaken by students in their senior year. Students present the results of their research in a written paper and oral presentation before an audience of students, family, and friends with a faculty adviser and community volunteer acting as evaluators. Members of the community serve as secondary evaluators for the students' oral presentations.  A week before the event,  Evaluators must attend a  90 minute training at Ocean High School. On the day of the event, Evaluators should plan on an hour for each Evaluation. Coffee and light fare provided on site. Contact our office if interested in participating, 650-355-9432.
Read Aloud Day at Sunset Ridge School: On the morning of Friday, April 12, 2019, Sunset Ridge School will hold an assembly to listen to a local author read to students. Authors may describe the craft of writing and their own process. Then, in the classrooms of the school, Community Guest readers, including State and locally elected officials, businesspeople, prominent Pacificans and community members will read to students and share their favorite stories and books. Bring your own cherished book to the event, or our local librarians will provide you with some perfect choices. Plan on reading in a class for 20 minutes. Coffee and light fare provided by the Sunset Ridge PTO.  Please contact our office if you are able to participate.
ThinkBridge Summer Camp 2019 – June 17 – July 12, 2019: Get ready to think, create, and innovate!  Campers age 6-12 will have fun with 4 camp programs:  Creative Thinking, Music, Strategic Games, and  STEM Design lab, with computer programming and robotics. Our fantastic team of experienced instructors is joined each year with 1-2 Adult volunteers and 25 High School Volunteers. See our website, http://thinkbridgecamp.org for volunteering details and registration.
 Interested in participating in School events in 2018-2019? Please contact us if you would like to join us as a volunteer!